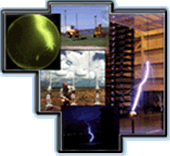 Thunder days per year
Argentina
30 - 80
Brazil
40 - 200
Hongkong
9 - 100
Indonesia
180 - 260
Malaysia
180 - 260
Singapore
160 - 220
Thailand
90 - 200
Oil & Gas Application
The ERICO Six Point Plan can be applied to a typical offshore Oil & Gas Platform, where the remoteness of such platforms, combined with their vulnerability in a lighting storm, can make the replacement of equipment and communications services an extremely costly experience.

The Six Point Plan for Offshore Fasility :
Enhance Attractive Area Lighting Terminal
Purpose designed insulated Downconductor bonded to Rig structure
Lighting Protection Earth
Main Ground bonded to Rig structure
Shunt Diverter Installed on AC Power Supply to Aircraft warning
Telecommunications Line Protector installed in MDF and monitoring console to protect sensitive Telecoms equipment, Telemetry cabling and monitoring. Fire Alarm
The Customer Reference which had install the system with Lighting Protection.