Dissipate the Lightning Energy - Point 3 of Six Point Plan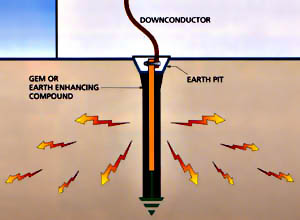 For the efficient performance of a lightning protection system it is essential that a low impedance ground be provided to facilitate the dissipation of the lightning energy into the earth mass. The ground grid should minimize the ground voltage potential rise and thus lessen the risk of injury to personnel or damage to equipment.
Note : Ground Enhancement Material (GEM) or Earth Enhancing Compound is a non-leaching soil treatment which can dramatically improve ground grid resistance and impedance.
| | |
| --- | --- |
| | - Permanent Connections |
Connections are often the weak point of electrical circuit, and especially circuits subjected to ageing and corrosion, and to high current. The capacity of an earthing circuit to protect the safety of personnel depends on the quality of the connections made.


The CADWELD exothermic system makes it possible to produce copper / copper, copper / aluminium, copper / steel, and aluminium / aluminium electrical molecular bonds with no external energy or heat source. The principle consists of bridging together a wedding filler material and ignition agent in a suitable graphite mould. The "weld metal" composition depends upon the metal to be welded (copper oxide and aluminium for a copper / copper weld). The reduction of copper oxide by aluminium produces molten copper and aluminium oxide slag at temperatures exceeding 2000șC.