Protection for Communication Equipment - Point 6 of Six Point Plan


Transients and surges caused by lightning, or switching of power equipment, affect communication signal carried on copper cable. Telecommunications lines, industrial process control, coaxial feeders, computer network (LAN & WAN), and RS 232 circuit are vulnerable to surges which may be up to 20.000 Amps for some high risk environment.
CRITEC communication equipment protector provide a range of transient and operating performance capabilities to protect communication terminal and interface equipment from damage caused by transients on communication lines.
TELECOMMUNICATION PROTECTION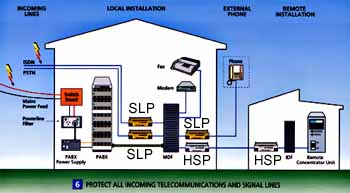 CRITEC telecommunications equipment protectors provide a range of transient and operating performance characteristic to protect telecommunications terminal interface equipment from transients on telecommunications line. The Critect TLP family of devices includes models designed to protect analogue voice frequency equipment, and high speed digital circuit, providing optimum protection irrespective of the type of circuit in use.
Subscriber Line Protection (SLP)
High Speed Digital Protection (HSP)
CONTROL SIGNAL EQUIPMENT PROTECTION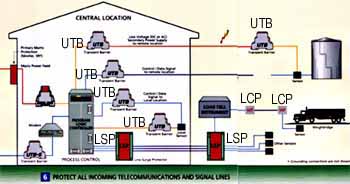 Industrial environment are prone to dangerous and damaging transients and surges which can be induced onto signal lines as result of lightning, power switching and electrostatic discharges. These surges and transients can cause erroneous equipment operation or corruption of process controllers resulting in system failure. Uncontrolled surges and transients endanger health and safety, and can lead to expensive equipment repairs, considerable production downtime, loss of revenue and loss of profit.
Universal Transient Barrier (UTB and UTB-S)
Line Surge Protector (LSP)
Loadcell Protection (LCP)
RADIO COMMUNICATION PROTECTION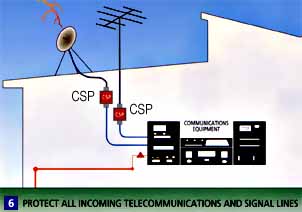 Coaxial Surge Protectors (CSP) are design to protect radio equipment against lightning lightning, NEMP and other induced electromagnetic disturbances on coaxial antenna cables. CSPs are suitable for use on MF, HF, VHF and UHF frequency cables.
COMPUTER NETWORK, PERIPHERAL AND DATA LINE PROTECTION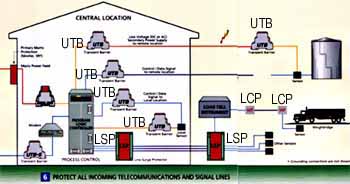 Computer system are an essential part of most modern business. As component has become smaller, they have become more vulnerable to over voltage transients from static electricity, switching and lightning. CRITEC provides comprehensive data protection, for distributed LAN system, such as Ethernet and Token Ring.
Local Area Network (LAN) Protection
Data Line Protector (DLP)

Computer and peripheral Data Equipment

Protectors