Protection from Power Surges - Point 5 of Six Point Plan


Electrical and electronic circuitry in computing, communications and control / alarm installations are highly susceptible to damage from lightning, surges and other transient pulses.

These impulses may arrive via power, telecommunications or signal line following direct lightning strikes or following inductive, capacitive or conductive coupling.

HOW DO WE PROTECTED YOU FROM POWER SURGE ?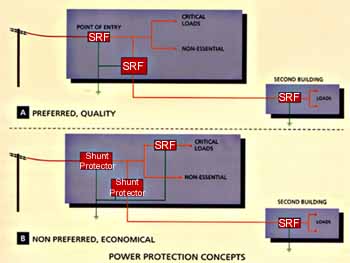 High let-though voltage
Wavefront unaltered
Energy diversion only
Independent of load current
Point-of-entry, coarse prot'n

Low let-though voltage
Wavefront slowed
Energy diverted and filtered
Sized based on load current
Essential for electronic, comms - fine protection